Customers opt for credit cards with an expectation of higher returns, amazing deals, offers, and cashback. However, most credit cards would disappoint you with their slim range of discounts and offers. They are productive if you only look from a single side, be it shopping, booking tickets, or whatever. But if you really want one with good returns, you would either have to pay a substantial fortune, or it will have higher eligibility requirements.
In a nutshell, we can say it is almost impossible to find an option with greater returns at a lower annual fee unless you have heard about the new HDFC Millennia Credit Card. HDFC Bank has recently launched its Millennia card to fulfill the requirements and desires of the consumers.
It offers great discounts, cashback, bonus points on Online shopping, and several other facilities one could wish for. And the most impressive news is that you get all this for an annual fee of Rs. 1000.
Now, if that sounds interesting to you, keep reading to find out more about the Millennia credit card.
What is HDFC Millennia Credit Card?
The Millennia Credit Card, just as the name suggests, is specially launched for the millennials, i.e., the ones born between 1981-1996. Its chief motive is to offer benefits in multiple categories. The credit card provides cashback's on all purchases, lounge access, CashPoints on different modes of withdrawing, and a lot more.
Yet, it has some terms and conditions too, which might seem inappropriate to you. We will try to wrap up everything in this article.
Welcome Offers
Since they recently launched it on the market, HDFC is providing some attractive offers as welcome gifts for the customers. Here is what you get in return for a new membership.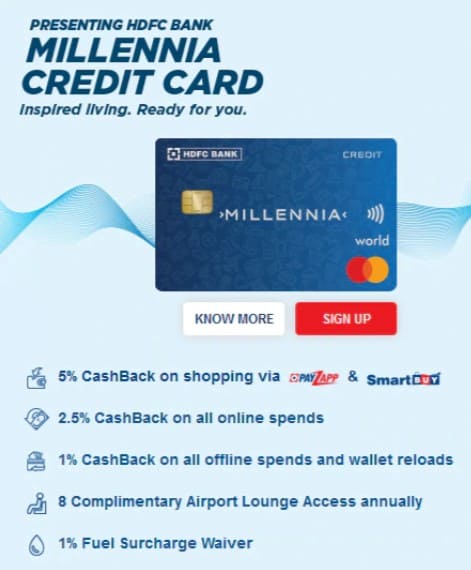 It comes with 1000 CashPoints, which you can access after making your first annual payment of Rs. 1000. You can later redeem the CashPoints or rewards into actual money.
On making a purchase of Rs. 1 Lakh or above, you get a gift voucher worth Rs. 1000. Plus, the annual fee for the second year also gets waved off too.
Get cashback up to Rs. 1000 for the first six months. Typically, the cashback limit per month is Rs. 750. (Note: Cashback can be collected through PayZapp and SmartBuy only).
Multiple Cashback Offers With Millennia Card
The most beneficial resource of this credit card is definitely the cashback it offers. The Millennial credit card generally comes with three different cashback offers.
5% Cashback:
For every online purchase from Amazon, Flipkart, flight bookings, or hotel bookings, earn 5% cashback straightforward. However, it has a few conditions, which are:
Purchase needs to be a minimum of Rs. 2000 or above.
Payments must be done through PayZapp or SmartBuy.
2.5% Cashback:
On making an online expenditure somewhere other than those mentioned above, you get 2.5% cashback that you can redeem whenever you want. Again, the same conditions apply for this as well.
1% Cashback:
Get 1% cashback on all offline payments. In order to access this offer, you need to spend a minimum of Rs, 100.
Plus, it also offers a 1% fuel surcharge wave off. You can wave off max up to Rs. 250 on fuel transactions, the minimum transaction must be of Rs. 400 or above. Besides, it also has cashback for EMI purchases as well.
However, remember that the cashback limit for all these criteria is the same i.e., Rs. 750 per month.
Airport Lounge Access With Millennia Card
One of its primary benefits to highlight is the free airport lounge access facility. Consumers can avail free access to lounges for 8 times in a year.
However, the lounge program ultimately depends on the transactions made via your card. You can avail of this offer via your MasterCard or Visa lounge program.
Contactless Payment Facility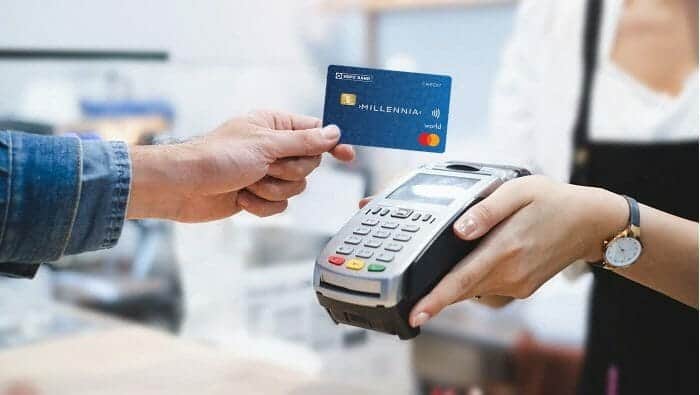 The HDFC Millennia Credit Card comes with a contactless payment facility as well. You can pay up to Rs. 2000 without coming into any physical contact with the swipe machine. Just touch the card to the machine, and the transaction will happen by itself.
Additionally, the Millennia card is also affiliated with MasterCard, which means you can leverage all the special benefits that MasterCard provides.
Active SBI Debit card user? Checkout How to activate SBI debit card
Membership Amount Waiver
As mentioned earlier, the Millennia card comes with a simple membership fee waiver option. All you got to do is spend a specified amount under a time slot to dismiss the membership amount. Here is how it works:
To wave off the membership amount, customers should pay Rs. 30,000 or above within the first three months (90 days) of card issuance.
Consumers must make an expenditure of up to Rs. 1 Lakh in order to wave off the renewal fee for the next year.
Compared to other credit cards, it is relatively more manageable for the customers to achieve this milestone to avail of the membership fee waiver CashPoints. Now that we have seen most of its exciting offers let us check out who can get this card or what is the eligibility criteria for achieving it.
Eligibility Criteria for Millennia Credit Card
HDFC likes to keep things simple. Hence, the eligibility criteria for this card are broken down into simple parameters.
Who can have this credit card?
Firstly, the Millennia card is only available for Indian residents.
The minimum age criteria of customers should be 21 years, and the maximum is 60 years.
Anyone with a monthly income of Rs. 30,000 or more is eligible.
For self-employed customers, it extends the age limit from 21 to 65 years. In addition, they must provide an ITR of up to 6 Lakhs or above.
Even after fulfilling the eligibility criteria, it still depends on the bank's discretion. They might even reject your request if it is not serviceable in your area.
Downsides of this Credit Card
Even though the HDFC Bank Millennia Card comes with great deals and offers, it does have a few disadvantages on the other side. The downsides of the Credit card are as follows:
the CashPoints are valid up to 1 year from the day of accrual.
Consumers might have to spend a substantial amount to get amazing cashback. Moreover, if you are not a believer in online shopping, it is not an appropriate one for you.
No cashback is available for fuel purchase. However, you get a 1% wave off on fuel surcharges.
No International AirPort Lounge Program is available. You only get 8 free Domestic Lounge access.
Apart from these few drawbacks, the Millennia Credit Card comes with significant benefits for its users. The cashback and all the other facilities are just overwhelming in contrast to Rs. 1000 annual fee.
Conclusion
The Millennia Credit Card from HDFC Bank comes with some significant benefits and offers in multiple categories. Above all, the attractive cashback definitely draws the attention of most of the customers.
However, it lays a series of terms and conditions and not to mention you need to spend a lot to avail of the cashback. So, make sure that you can afford its minimum expenditure requirements before you really opt for it.
Also, if you often shop online, especially on Amazon or Flipkart, or travel frequently, then you can take full leverage of its offerings. Besides, the Lounge access facilities seem decent, if not International. In short, the Millennia Credit Card is an excellent option for people having larger annual expends.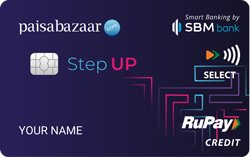 Credit Card HDFC
Get Instant Approval
Best suited for:
Cashback
Rewards
Secured Card
Approval Chance
Excellent
Best suited for:
Cashback
Rewards
Secured Card
Approval Chance
Excellent
Why this card
Best card to improve your credit score
Highlights
First Highlights
Second Highlights
Third Highlights
Reward Value
First Reward Value
Second Reward Value
Third Reward Value
Pros
ewdwrwerweerwrwe rwrwe
sdfsdfsd
sdf
sdsdf
sdf
FEE DETAILS
1st Year Fees
100
test text